Quebec is actively studying the idea of issuing digital passports that would give immunized people easier access to certain events, restaurants or even foreign travel in the post-pandemic age.
QUEBEC — The Legault government is actively studying the idea of issuing digital vaccination passports that would give immunized people easier access to certain events, restaurants or even foreign travel in the post-pandemic age.
Health and Social Services Minister Christian Dubé said Thursday he has given public health and certain technology experts the green light to explore the idea, which has already been put into practice in certain countries.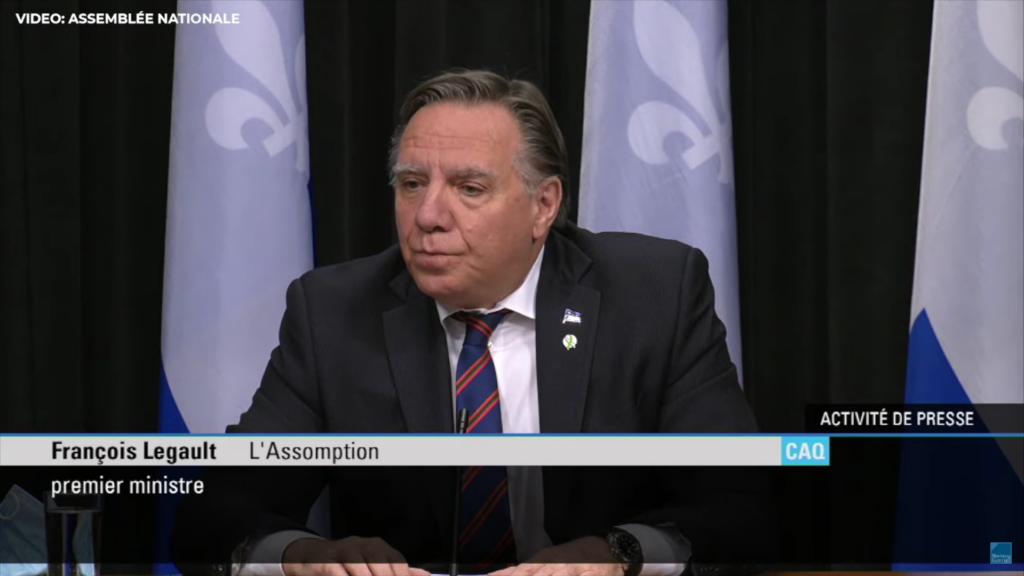 "For me, a digital vaccination passport is completely normal and we have teams which are looking at this," Dubé said at a news conference on the COVID-19 situation in Quebec.
Dubé compared it to a boarding pass Quebecers could call up on their phones, based on a simple code. He said it would be a "logical extension" to the Health Booklet (Carnet santé) being put in place by the Régie de l'assurance maladie du Québec, which will eventually hold a person's medical data.

"People want the proof (that someone is vaccinated)," Dubé said. "I think that's normal. I have heard from many companies which would like to be the first to be able to open their doors if people have a proof of vaccination.
"We're in a digital world. I don't see why we couldn't have what we call the QR (Quick Response) code that we have on our boarding passes."
Dubé noted that during the H1N1 flu crisis, citizens were able to get an email to use as proof of vaccination.
Public health director Horacio Arruda added that certain countries might eventually require such passports to grant entry.
Vaccination passports exist or are being tested in other parts of the world, but the idea is controversial because it creates two categories of citizens. France and Germany have expressed reservations about the concept.
Among the first to raise concern locally Thursday was Québec solidaire co-spokesperson Gabriel Nadeau-Dubois, who said he found Dubé a bit too flippant in opening the door to such an idea that has the potential of leading to discrimination.
He called on Dubé to clarify his intentions.
Dubé made the remarks on the same day mass vaccinations got underway for Quebecers 85 and older, with the booking system operating more or less normally.
By noon Thursday, 72,000 appointments had been confirmed, with the system taking about 12.5 bookings a second. By the end of the afternoon, the number was nearly 100,000.
"The platform is in place — it is working," Dubé said. "We can be very, very satisfied with our first day."
The province will also be getting more vaccine than anticipated. Dubé said Quebec will have a total of 700,000 doses by the end of March. That includes 400,000 doses of the Pfizer vaccine and 300,000 of the Moderna one.
Quebec will thus be able to start administering the second doses on March 15 as planned. On Thursday Quebec signed an agreement with some pharmacy chains that will also have a hand in stepping up shots, Dubé said.
The launch was so successful, Dubé asked people under 85 to not clog up the system trying to get appointments.
Meanwhile, Dubé and Arruda gave another warning about the potential impact of new variants on plans to ease restrictions after March break.

Quebec is not cancelling the previously announced loosening of some measures for the holiday week, coming into effect Friday, but the increase in cases of variants — particularly in schools — is a "new element in the equation," Arruda said.
That explains Quebec's decision Wednesday to make pediatric surgical masks mandatory, in class and on the school bus, for students in Grades 1 to 6 starting March 8.
Dubé said Quebec is now up to 772 suspected cases of variants — 170 more than a day earlier — and 34 confirmed cases.
He said he will announce a decision on possible easing of measures for the post-March break period on Tuesday, March 2.
"What we are watching is with what speed can we control the variants," Dubé said. "I ask you to follow the rules, because when we see the risks associated with March break and the risks associated with variants, I would not want to have to back up in the coming weeks. I think it's important that we come out of March break the right way."

Quebec reported an additional 858 new cases and 16 deaths Thursday, but hospitalizations dropped again.
The organizers of summer festivals have called on the government to make a decision soon on whether any of their events can go ahead. Asked about the plea, Arruda said much will depend on the level of vaccinations attained.
Masks and distancing rules will probably remain in place a long time.
"I think we'll still be in this dynamic," Arruda said. "But we'll do everything to be inventive to allow people to have a summer."