Temple president says vandals struck overnight; board chair says management did it for safety reasons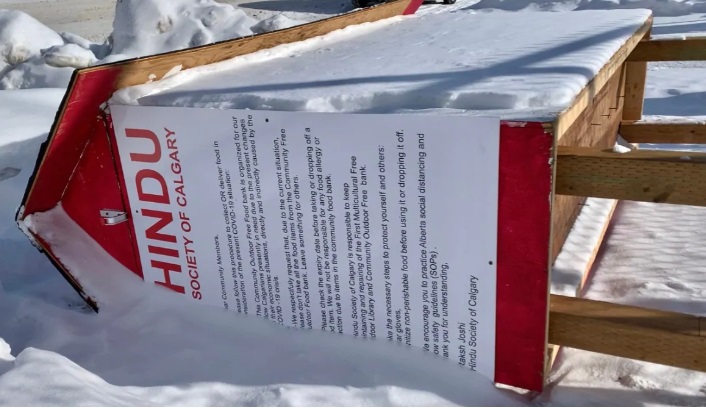 The "take a blessing, leave a blessing" food bank was donated to the temple by local group Love With Humanity Association, which has constructed and donated other food banks and libraries in and around Calgary.
The association's Syed Najam Hassan says the food bank was a gift to help people in need and wasn't aware they were being taken down. He says it won't stop him in his mission to spread love and bring a smile to people's faces.
The food banks allow people to access food and essentials with no questions asked — as well as for people to leave items for others.
The food bank and library stood on City of Calgary property directly outside the gates of the temple, which has been there for more than 40 years.
They were put there with all the proper permissions needed, according to Joshi.
The food bank opened last month and was endorsed by Ward 5 Coun. George Chahal as well as MLA Leela Aheer.
"All community members, Sikh, Muslim, are all with us. They've been helping us and nobody would do this kind of act. They are the ones that provide food to us," said Joshi.
Joshi says food and books that weren't damaged were moved inside the temple.
"Hopefully we'll find out from the video cameras who did it and why they did it," said Joshi.
"This is a very inhuman act."
Initially, some people in the South Asian community worried it was vandalism carried out to create divisions between religious groups. Others hoped it was a random attack.
Joshi says he has reported the incident to Calgary police.
He says he wants the community to stay calm, peaceful and in harmony while they work out what happened.
"We love all communities, we want to work with all communities," he said.