Phone lines jammed, website crashes as shots for seniors become hottest ticket in the province
Alberta Health Services phone lines were jammed and its website kept crashing on Wednesday as the COVID-19 vaccination booking system opened to all Albertans born in 1946 or earlier — although the province said 43,000 had managed to book and some were already being vaccinated by 7 p.m. MT.
The province said an additional 230,000 seniors age 75 and older were eligible for the vaccine when bookings opened up Wednesday morning. Seniors who are residents of public long-term care and designated supportive-living facilities have already received them.
Many people who called Health Link at 811 reported not being able to get through on the phone lines at all after they opened for booking at 8 a.m. Wednesday or being disconnected after making it part way through the booking process.
Others reported similar experiences with the AHS online booking tool, with the site either being down entirely or crashing as they were mid-way through booking an appointment.
James Roberts, 77, said the line was constantly busy as he spent the early morning trying to book an appointment by phone.
"All I can say is, it should have gone better. I mean, that's their job is to keep the people informed and to make sure that everybody understands what's happening and to really understand the segment of the population they are dealing with," he said.
"I mean, it's 75 and older, and a lot of people are not able to process in the same way, you know, somebody 20 years younger might do. This is … they haven't planned for this."
Angie Hung, who works in IT, said early Wednesday that she tried to help both of her eligible parents book appointments and had no success.
"There was one time I got in to about the first six questions, and then when I finally answered that last question, the website froze," she said.
"So that was more uncertainty, because do I keep it open in case it does eventually reload? I'm not entirely sure. So I will keep on trying."
More than 15,000 people booked by noon: AHS
Alberta Health Services (AHS) said Wednesday morning that it is experiencing "very high volumes" and urged users to try again soon if they were having trouble accessing the website.
Earlier in the week, AHS spokesperson James Wood said there would be additional staff to handle the anticipated flood of calls to Health Link, but said longer wait times would be expected.
AHS said the first vaccine under the expanded plan was administered shortly after 11 a.m.
Carolyn Tomanik took her 75-year-old mother, Norma, to get her first shot on Wednesday.
She says it was a "fluke" to get through on the phone, but she is thrilled she got an appointment.
"Hopefully it will ease some of the tension," said Tomanik.
"You know, I realize that all the precautions still need to be taken … but she's been holed up in her house for months and months, hardly ever coming out, so she is happy to have some degree of, hopefully, flexibility at some point."
Chief Medical Officer of Health Dr. Deena Hinshsaw had said Tuesday that appointments would be available seven days a week from 8:20 a.m. to 3:40 p.m. at 58 sites around the province, with the hours being extended as more doses of vaccine arrived.
No walk-ins will be allowed, Hinshaw said.
Family members are allowed to book appointments for seniors but should make sure they have photo ID or an Alberta health card.
Seniors who can't find transportation to their appointments can call 211 for help.
Pharmacy appointments
Later in the day, Health Minister Tyler Shandro announced select pharmacies in Calgary, Edmonton and Red Deer would be offered starting the first week of March for those aged 75 and older.
He said approximately 102 pharmacies will be offering shots and appointments will be available by the end of next week. A list of participating community pharmacies can be found on the Alberta Blue Cross website.
"We know that many pharmacies across the province are keen to jump in and assist in this program," he said.
"However, we must start small due to the limited vaccine qualities that were being provided by the federal government and the strict storage and handling requirements for the Pfizer vaccine."
Health minister acknowledges frustrations with booking system: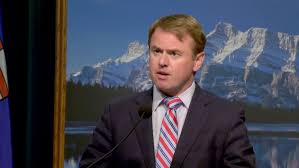 Tyler Shandro said Alberta Health Services is working to fix the problems that caused the online booking tool and Health Link to be overwhelmed Wednesday morning when seniors over the age of 75 looked to schedule their COVID-19 vaccinations
Margaret Wing, the CEO of the Alberta Pharmacists' Association, said staff at participating pharmacies will contact clients that are eligible for the shots.
"Every pharmacy will have their own process for booking, scheduling, screening and administering the vaccine, and we encourage you to follow your pharmacist's instructions on how to determine your appointment," she said.
Officials urge patience
Shandro says he understands the frustration of those unable to get through the application process on Wednesday.
"I am disappointed, but the fact is that it's going to take time to reach everyone." More resources have been added, he said, including more staff to answer phones and more servers to support the website.
Hinshaw urged people to be patient on Wednesday.
Dr. Noel Gibney, co-chair of the pandemic response committee of the Edmonton Zone medical staff association, said the website crashing was to be expected based on the experience of other jurisdictions.
"In the early hours of the open time, the systems have often crashed and so I would basically ask people to give it some time," he said. "I'm sure that later today it will be open."
1,574 Albertans over age 70 have died of COVID-19
More than 10,000 Albertans over the age of 70 have contracted the virus, 1,574 of whom died. That age group is also much more likely to be hospitalized due to an infection.
Alberta reported 430 new cases of COVID-19 on Wednesday, compared with 267 new cases the previous day. There were 4,545 active cases, down from 4,516.
The province has administered 186,572 doses of COVID-19 vaccine as of Tuesday, with 77,354 Albertans fully immunized after receiving two doses.
The next phase of the vaccine rollout could start in April, depending on vaccine availability.
It will include anyone aged 50 to 74, anyone with underlying high-risk health conditions, First Nations and Métis people aged 35 or older, eligible caregivers, and residents and staff of congregate living settings.
Congregate living settings include correctional facilities, homeless shelters and group homes.