N.S. Health issues several potential exposure notices, including 4 Halifax Transit routes
With several new cases of COVID-19 in Nova Scotia for which public health officials have not been able to find a source, increased testing capacity is in the works and the province's top doctor is urging people to get tested.
Chief Medical Officer of Health Dr. Robert Strang said there are two clusters that public health is watching closely: one in the area of Beaverbank and Lower Sackville, and another in the Annapolis Valley.
"This past week our numbers have begun to creep up," Strang said at a COVID-19 briefing Wednesday. "I'm also becoming concerned about community transmission as we're seeing several cases over the last few days with no clear link to travel or a known case."
Three new cases of COVID-19 were reported in the province on Wednesday, bringing the number of known active cases to 21. The new cases are all in the central zone. One case is a close contact of a previously reported case, the other two are under investigation.
One person is being treated in a hospital's intensive care unit.
Nova Scotia Health issued several potential COVID-19 exposure notices on Wednesday evening, including one in the western zone and various locations in the central zone, as well as a number of Halifax Transit routes.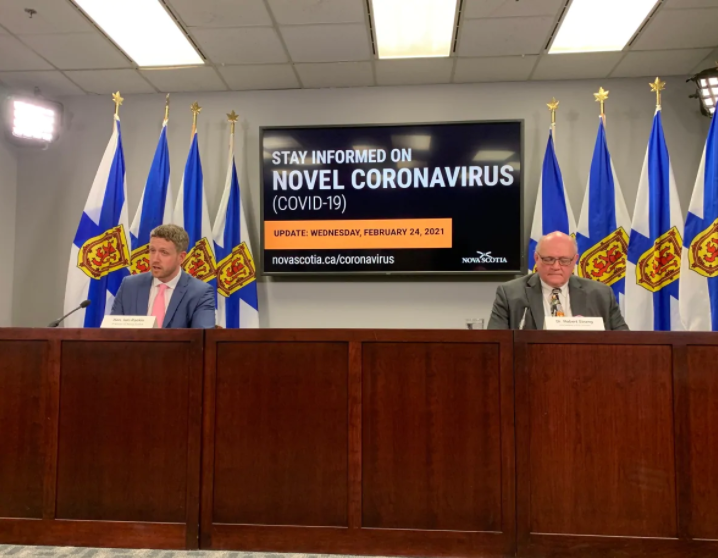 Case numbers in the clusters are relatively low, but Strang said Public Health is working hard to avoid an "explosive situation."
A new primary assessment centre will be opening soon in the Beaverbank area, Strang said. In the meantime, the health authority is setting up a pop-up testing clinic at the Sackville Heights Community Centre (45 Connolly Rd., Middle Sackville, on Thursday, Feb. 25 from 11:30 a.m. to 5:30 p.m. for drop-in testing.
Strang said as of Tuesday, there were three cases with no known cause in the Valley. He urged anyone living between Wolfville and Berwick to get tested. There are already primary assessment centres in both those towns, and the health authority is sending a mobile testing unit to the area for at least the next four days.
Drop-in and pre-booked appointments will be available at:
New Minas Fire Department (6 Jones Rd., New Minas) on Thursday, Feb. 25 from 11 a.m. to 5 p.m., and Friday, Feb. 26 from 11 a.m. to 4 p.m.
Canning Multi Complex (977 Jordan Rd., Canning) on Saturday, Feb. 27 and Sunday, Feb. 28, each day from 10 a.m. to 4 p.m.
Strang didn't have a current number of untraceable cases in the Beaverbank cluster, where last week three linked, untraceable cases were reported. While those cases seem to have been contained, Strang said, another new case has since been found in that community.
Strang calls for less socializing for 2-3 months

Strang asked people to redouble their efforts to follow public health guidelines, especially in keeping close contacts to a minimum.
He said most people are still abiding by gathering limits, but they're socializing frequently and with different groups of people. Strang urged Nova Scotians to keep their social interactions to a consistent group of 10 people.
"Even though there's signs of hope on the horizon, we really have the next two to three months that we need to stick with it," he said.
Strang said anyone who has interacted socially with someone outside their usual social group should get tested within a week of the interaction, especially if masks weren't worn.
Prototype community clinics open
The first community vaccination clinics in Nova Scotia opened this week, including a small prototype clinic at the IWK Health Centre for people aged 80 and up. Strang said he visited the clinic Wednesday and it was running smoothly.
Letters for all Nova Scotians 80 and older will be going out soon with information about how to book vaccine appointments starting March 1.
A clinic in Millbrook First Nation also opened Wednesday for community members aged 55 and up. That clinic marks the first one in a Mi'kmaw community and will serve as a prototype for the other 12 Mi'kmaw communities around the province.
First Nation clinics are being planned and run by their own health centre staff, with input from community leaders.
A prototype clinic in an African Nova Scotian community is also in the works, Strang said, although he had few details to share. It's expected to open at the end of March, but Strang did not say where it will be located.
Like the Mi'kmaq, African Nova Scotians have been identified as vulnerable and in need of culturally sensitive vaccination programs, but plans for vaccination in traditionally Black communities have been slower to come together. Strang said that's partly because those communities typically don't have established infrastructure like health centres, as most Mi'kmaw communities do.
N.S. on track to meet early vaccine targets
Strang said the province is receiving 14,700 doses of vaccine this week, and expects a steady supply of 10,000 Pfizer-BioNTech doses each week until the end of March.
Despite some delays and uncertainty in vaccine delivery since the start of the new year, Strang said the current schedule for vaccine allotments puts Nova Scotia back on track to meet its vaccination targets for the first 90 days of its strategy.
As of Wednesday's reporting from the province, 29,237 people have received at least one dose of COVID-19 vaccine and 11,658 Nova Scotians, or a little more than one per cent of the province, are fully vaccinated