Cannabis wax — also known as weed wax, Butane Hash Oil (BHO), and honey oil — is one of the most popular (and potent) forms of marijuana concentrates today. Used for both recreational and medicinal purposes, cannabis wax is made by heating the plant's materials with butane (or another solvent) and extracting the THC. The finished product has a gooey wax consistency that contains a THC content of 30%, but many wax concentrates have over 90% THC. That's the equivalent to 15 to 20 joints!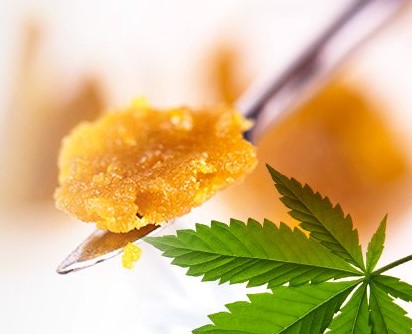 Wax is a type of butane hash oil (BHO). Butane gas is used as a solvent to extract the major cannabinoids and terpenes from buds and trimmings. Butane is highly flammable and unstable, and the possibility of butane explosions make DIY extraction dangerous.
Commercial cannabis extraction facilities use closed-loop equipment to safely extract cannabis oil. Wax is made by packing marijuana buds and trimmings into tubes and then flooding them in butane. The butane separates the resin (the desirable part of the plant) from the raw plant material. After several steps of heating, condensation, and vacuum purging, the result is a sticky cannabis concentrate that cools and hardens into a waxy substance.
Waxes are a diverse class of organic compounds that are hydrophobic, malleable solids near ambient temperatures. They include higher alkanes and lipids, typically with melting points above about 40 °C (104 °F), melting to give low viscosity liquids. Waxes are insoluble in water but soluble in organic, nonpolar solvents. Natural waxes of different types are produced by plants and animals and occur in petroleum.

Waxes are organic compounds that characteristically consist of long alkyl chains. Synthetic waxes are long-chain hydrocarbons (alkanes or paraffins) that lack substituted functional groups. Natural waxes may contain unsubstituted hydrocarbons, such as higher alkanes, but may also include various types of substituted long chain compounds, such as fatty acids, primary and secondary long chain alcohols, ketones and aldehydes. They may also contain esters of fatty acids and long chain alcohols.
Plant and Animal Wax
Waxes are synthesized by many plants and animals. Those of animal origin typically consist of wax esters derived from a variety of carboxylic acids and fatty alcohols. In waxes of plant origin characteristic mixtures of unesterified hydrocarbons may predominate over esters.The composition depends not only on species, but also on geographic location of the organism.
Animal Waxes
The most commonly known animal wax is beeswax, but other insects secrete (release) waxes. A major component of the beeswax used in constructing honeycombs is the ester myricyl palmitate which is an ester of triacontanol and palmitic acid. Its melting point is 62-65 °C. Spermacetioccurs in large amounts in the head oil of the sperm whale. One of its main constituents is cetyl palmitate, another ester of a fatty acid and a fatty alcohol. Lanolin is a wax obtained from wool, consisting of esters of sterols.
Plant Waxes
Plants secrete waxes into and on the surface of their cuticles as a way to control evaporation, wettability and hydration. The epicuticular waxes of plants are mixtures of substituted long-chain aliphatic hydrocarbons, containing alkanes, alkyl esters, fatty acids, primary and secondary alcohols, diols, ketones, aldehydes. From the commercial perspective, the most important plant wax is carnauba wax, a hard wax obtained from the Brazilian palm Copernicia prunifera. Containing the ester myricyl cerotate, it has many applications, such as confectionery and other food coatings, car and furniture polish, floss coating, surfboard wax and other uses. Other more specialized vegetable waxes include candelilla wax and ouricury wax.
Petroleum Derived Waxes
Although many natural waxes contain esters, paraffin waxes are hydrocarbons, mixtures of alkanes usually in a homologous series of chain lengths. These materials represent a significant fraction of petroleum. They are refined by vacuum distillation. Paraffin waxes are mixtures of saturated n- and iso- alkanes, naphthenes, and alkyl- and naphthene-substituted aromatic compounds. A typical alkane paraffin wax chemical composition comprises hydrocarbons with the general formula CnH2n+2, such as Hentriacontane, C31H64. The degree of branching has an important influence on the properties.
Millions of tons of paraffin waxes are produced annually. They are used in foods (such as chewing gum and cheese wrapping), in candles and cosmetics, as non-stick and waterproofing coatings and in polishes.Montan Wax
Montan wax is a fossilized wax extracted from coal and lignite. It is very hard, reflecting the high concentration of saturated fatty acids and alcohols. Although dark brown and odorous, they can be purified and bleached to give commercially useful products.
Polyethylene
Some waxes are synthesized by cracking polyethylene at 400 °C. The products have the formula (CH2)nH2, where n ranges between about 50 and 100. As of 1995, about 200 million kilograms/y were consumed.
How can to make cannabis wax at home?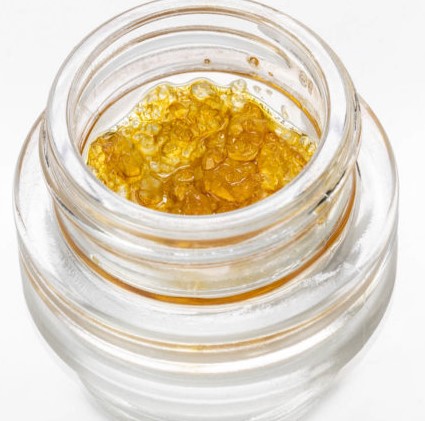 Making cannabis wax at home can be very dangerous, so it's recommended that you purchase it already made. However if you still want to proceed with the DIY approach, following are the steps you'd take:
Take your marijuana buds and pack them into a tube or pipe.
Place your butane (or other solvent) over the plant material. The fluid will bond with the psychoactive THC in the buds and extract the compound from the plant.
Allow the butane to evaporate until there's nothing left except an oily and extremely potent substance. That's your cannabis wax.
Depending on specific conditions (i.e. temperature and humidity) of the extraction process, you can create a variety of cannabis wax textures such as shatter, budder and crumble.
How do you smoke cannabis wax?
Although there are several ways to smoke cannabis wax, you won't be able to use the extract in a joint or vaporizer if the substance is too sticky and hard to handle. With that in mind, following are the three most common ways to use it:
Dabbing. Dabbing is the most popular way to consume wax. Dabbing involves the use of a piece of equipment called a dab rig, which is a specific type of pipe or bong. You'll also need a dab "nail" that fits your pipe or bong's gauge. Some dab nails are made of ceramic and quartz, but titanium is most common. In addition, you'll need a dome, which is the glass hood placed around the nail to trap the vapor before it's inhaled. Finally, you'll need a mini-blow torch, the kind that's used for crème brulee, and a dabber, which is the glass, metal or ceramic tool used to apply a dab.Assuming you're new to dabbing, it's recommended that you start out with a small dose of wax no larger than a crumb. Although it may not look like much, it's still going to pack a punch that's much stronger than you're used to.The process of dabbing begins by turning on your torch and aiming the flame directly at the nail. Note: nails and glass domes become extremely hot during the process. So, take caution when handling them – and always wait for all pieces to cool down before touching.Once the nail is hot, turn off your torch and place the glass dome over the nail. After you let it cool for about 45 seconds, take your dabber, apply the dab directly on the nail inside the dome, and inhale slowly. Then exhale and enjoy!
Vaping. Vaping is another popular way to use marijuana wax. For optimum effect, choose a vaporizer with a ceramic or quartz crystal heating chamber, and preferably one that has titanium coils to prevent accidental combustion. As with vaping weed, vaping wax allows you to enjoy the experience without the smoke.
Sprinkling the wax on a joint. The third most common way to smoke wax is to sprinkle it over flower when you're rolling a joint or packing a bowl. This is most easily achieved when using crumble wax. Using something like buddy or resin will create a nasty and sticky mess – and you'll end up getting more on your fingers than inside the joint!
What are the benefits of cannabis wax?
The most obvious benefit of cannabis wax is its enhanced potency. When made correctly, wax will not have any butane residue and is an incredibly potent substance. It can also be used for relieving a wide array of health issues, including chronic pain, anxiety and depression.
With that said, wax is so potent that it can cause negative side effects include hallucinations, unconsciousness and extreme paranoia. Also, as previously mentioned, it can be very dangerous to make wax at home. Butane vapors can quickly fill a room – and all it takes is a single spark to ignite. On top of that, if you're working in a poorly ventilated area, it's possible to die from inhaling too much butane.