A troubling incident involving Indigenous protesters and the Vancouver Police Department is making rounds on social media and will undergo review by the VPD's Professional Standards Section.
Over the past week, an organization called Braided Youth has been protesting in downtown Vancouver; the group consists of Indigenous youth from the Musqueam, Squamish, and Tsleil-Waututh territories. According to the Union of British Columbia Indian Chiefs (UBCIC), they've been occupying insurance companies and calling on them to stop backing the Trans Mountain Expansion pipeline project.
On Friday, February 19, the group was protesting at the BMO building when the demonstration appeared to become violent.
"Approximately 70 VPD officers, many of whom were not wearing masks, all came in at once," the Braided Warriors said in a statement. "We were given no warning or any time prior to being violently assaulted and removed from the property."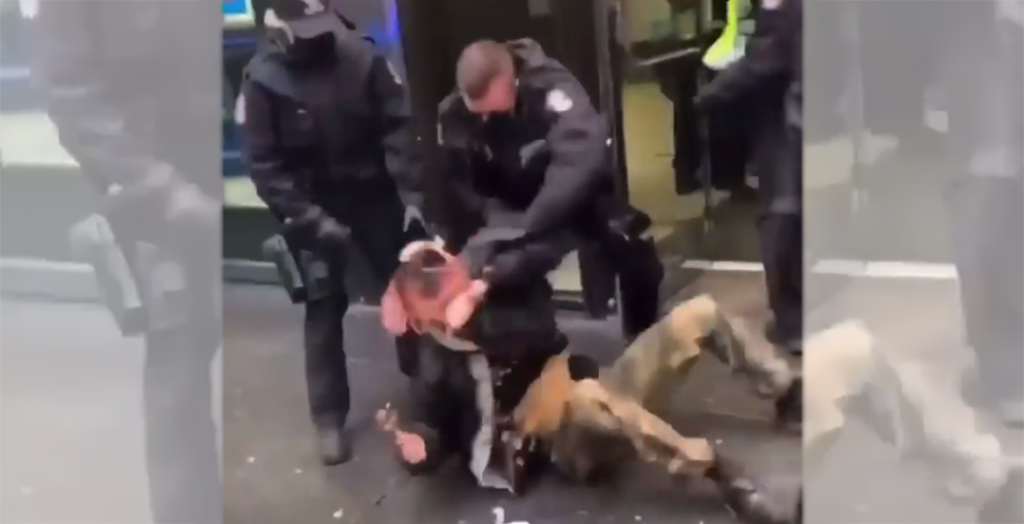 A video posted online appears to show VPD officers forcefully pushing and throwing protesters outside of the building and onto the ground.
"We were violently thrown to the ground, dragged across floors and down stairways, pulled by the hair and braid, thrown to a surface covered in glass, strangled in a chokehold, or dragged face down on the concrete."
The Braided Warriors add that four of their members were held in custody for over six hours and that several of them required medical attention. They also say that their ceremonial items such as drums, abalone shells, feathers, and red dresses were "desecrated, thrown, stepped on, and broken."